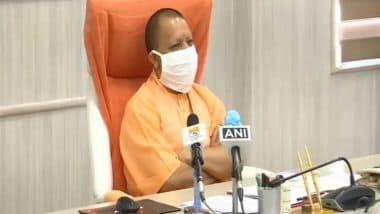 Chief Minister Yogi Adityanath (Photo credit: ANI)
New Delhi: In Uttar Pradesh In line with the mantra of testing, tracing and treatment, the yogi government's strategy against coronavirus is proving effective. On the one hand, while Covid is setting a new record in daily testing in the state, there is a steady decline in daily cases and the recovery rate is getting better. Currently, there are a total of 76,703 active corona patients in the state. In the active case this deficiency is well indicated. The number of patients has decreased by 755.3 percent in 24 days as compared to the peak on April 30. So far 15 lakh 77 thousand 729 people have won Corona. The recovery rate of the state is getting better every day. Now it has reached 94.8%. There have been 3,981 cases of covid infection in the last 24 hours, while 11,918 people have recovered and been discharged at the same time. In Uttar Pradesh, 234 people were killed in the last 24 hours, with 4,844 new cases reported.
Uttar Pradesh is setting a new record every day in Covid exams. In the last 24 hours 23 lakh 2 26 thousand 399 tests have been done. 1 lakh 2 thousand 404 samples have been sent from the district for RTPCR. Thus, 4 crore 70 lakh 63 thousand 16116 examinations have been conducted in the state till now. Uttar Pradesh is the only state that is undergoing so many tests and currently 47,483 patients are going through home isolation.
Chief Minister Yogi Adityanath has instructed Team-99 to manage the corona so that home isolation maintains constant contact with patients. For their speedy recovery, the method of medical counseling through telecommunications should be further improved. The number of doctors, the number of phone lines need to be increased. Home isolation patients and their families need to be provided with medical kits as needed through the monitoring committee. The medical kit delivery system should be monitored continuously. Contact patients through the District ICCCC and CM Helpline and verify the facilities being offered to them. A request from senior experienced and veteran physicians should be associated with the work of teleconference.
CM Yogi said the setting up of oxygen plants in the state is being done in a campaign format in view of future needs. So far, 414 oxygen plants have been approved in different districts, of which 51 have become operational. The district administration should continue monitoring the installation work of these plants. Availability of raw material or civic work should be completed on time. Uttar Pradesh will be self-sufficient in the scale of oxygen production.
Uninterrupted efforts have created a situation of imbalance in the demand and supply of oxygen. Oxygen audits conducted by seven institutes of technology in the state have helped a lot in the prevention of waste. Considering the availability of oxygen, industrial units should be allowed to use oxygen for their use. Industrial activities need to be kept effective in general.
The CM said it was gratifying that the coronary epidemic in the state had come to a minimum, but the slightest negligence so far could have thwarted all efforts. We must always be alert and vigilant. Partial corona curfews must be enforced effectively.
An active policy is being adopted to avoid the third wave of corona in terms of expert evaluation. Establishment of PICU and NICU in all medical colleges needs to be completed expeditiously. PICUs with 100-100 beds should be set up in all 58 medical colleges. It should have a 50-bed NICU with it. At present its capacity is 1900 beds, it will be increased to 5800. This work should be done with the highest priority.
He directed that all such districts including Azamgarh, Banda, Jalaun where there is a government hospital with 300-400 beds should be expanded to a minimum of 70,000-800 beds. At the same time, coroner patients / family members are being contacted and their needs are being met through CM Helpline and ICCC. Now similarly, Kovid should communicate with the next patient and patients / family members daily to suffer from black fungal problems. All their needs should be taken care of.
At the same time Chief Minister Yogi Adityanath directed that the CHC / PHC under construction should be completed in time. For this, a nodal officer should be appointed and construction work should be monitored continuously. The Department of Health has to take special steps in this regard in all the districts of CHCs and PHCs in the state for repairs, implementation, yard dyeing, hygiene and adequate availability of manpower. For this a special team should be formed to monitor it.
He should strengthen the system by conducting a campaign in the Department of Health and Medical Education in the form of 'Operation Revival' in the Department of Basic Education. Public representatives should be requested to cooperate. Emergency health care must continue. There are separate hospitals for women and children in all the districts.