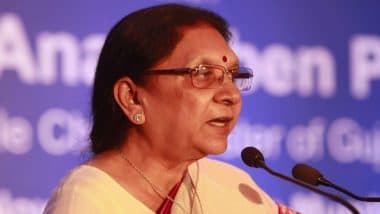 UP Governor Anandiben Patel (Photo Credit: IANS)
Lucknow: Before the Assembly elections in Uttar Pradesh next year, the BJP is witnessing high voltage drama. There is speculation that there may be a big upheaval in the party before the election. Meanwhile, amid speculations of a cabinet reshuffle in the Yogi Adityanath government, Radha Mohan Singh, national vice-president of the Bharatiya Janata Party (BJP) and in-charge of Uttar Pradesh, met UP Governor Anandiben Patel on Sunday. Singh, however, called it a "courtesy call."
Speaking about his meeting with the Governor, Radha Mohan Singh told reporters, "I have known the Governor of Uttar Pradesh for a long time and have not met him for a long time. Finally today I met him as a courtesy. I got it, especially since I am in charge as the Governor of that state." I am "
Before visiting the palace, Singh met state BJP chief independent Dev and Water Power Minister Mahendra Singh, prompting further discussions on the party's strategy ahead of next year's assembly elections. Singh and BJP National General Secretary (Organization) B.L. Santosh met state leaders for three days last month, after which both leaders backed Yogi Adityanath and described him as the most diligent and efficient chief minister.
If you want to know whether the reshuffle of the cabinet has been discussed. Singh said, "There are some fertile minds who continue their farming. Supporting the Chief Minister, he said that his government is very popular. Radha Mohan Singh will meet UP Assembly Speaker Hridoy Narayan Dixit on the day.
Meanwhile, Swatantra Dev said that seven vacancies in the Yogi Adityanath government would be filled in due course. The 403-member Uttar Pradesh Assembly has 309 BJP MLAs, SP-49, BSP-18 and Congress-7 MLAs. Let us tell you that the Uttar Pradesh Assembly elections will be held in 2022.