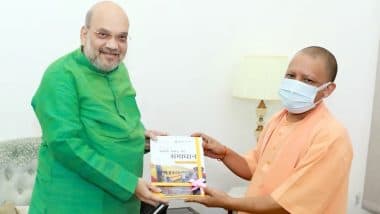 Amit Shah and CM Yogi Adityanath (Photo credit: ANI)
New Delhi, June 10: Uttar Pradesh Chief Minister Yogi Adityanath on Thursday called on Union Home Minister Amit Shah. Arriving in the capital on a two-day visit, Yogi Adityanath is expected to meet Prime Minister Narendra Modi and BJP President JP Naddar. A few days ago, BJP national general secretary (agency) BL Santosh and the party's state in-charge Radha Mohan Singh visited Lucknow and reviewed the party's preparations for next year's assembly elections. The two leaders met state government ministers and key officials of the organization at this time. After this, after the sudden arrival of Adityanath in Delhi and meeting with the central leaders, speculations have started about the expansion of the cabinet in the state again.
Sources claimed that Nadda had met Prime Minister Modi and former Union Minister Jitin Prasad, who had joined the BJP a day earlier, and met Chief Minister Adityanath. No official information was given about the meeting between Nadda and the Prime Minister, but Prasad termed his meeting with the Chief Minister as a courtesy call. AK Sharma, a former administrative officer and a member of the Legislative Assembly who recently joined the BJP, is also in Delhi. Sources say he has met with some central leaders of the party. Sharma is considered close to Prime Minister Modi.
Uttar Pradesh CM Yogi Adityanath met Union Home Minister Amit Shah in Delhi today. pic.twitter.com/VDpZz4KCth

– ANI (@ANI) June 10, 2021
Read more: After joining BJP, Jitin Prasad meets CM Yogi Adityanath, find out what he said
Neither BJP leaders nor senior party workers have given any official information about the meeting at this stage, but sources claimed that the exercise was about the inclusion of some more leaders in the Uttar Pradesh government, including Prasad and Sharma, from a well-known Brahmin family in Prasad state and Sharma Bhumihar community. Meanwhile, according to sources, Adityanath may meet Prime Minister Narendra Modi and Naddar on Friday. After meeting Shah, Adityanath tweeted, "I received his guidance from Union Home Minister Amit Shah in a courtesy call in New Delhi today. Sincere thanks to the Home Minister for giving valuable time for this visit.
In addition to this tweet, Adityanath also shared a photo to show him handing over a copy of the "Resolving the Migrant Crisis" report to Shah. According to sources, during his meeting with Shah, who lasted for about a year and a half, Adityanath also discussed other political issues, including the second wave of Kovid-19 in the state. While the meeting between Shah and Adityanath was going on, Anupriya Patel, president of her own party and former Union Minister, also reached Shah's house. Shah tweeted and shared about the meeting with Adityanath and Patel and also shared photos. Uttar Pradesh Nishad Party president Sanjay Kumar Nishad and Sant Kabirnagar MP Praveen Nishad also met Shah.
Shah's meeting with Patel and Nishad party leaders is being seen as an attempt to call on the BJP alliance before the upcoming assembly elections. Patel was a Union Minister in Prime Minister Modi's first term, but when he became Prime Minister for the second time, he did not include his party leader in his cabinet. In the midst of the meeting, former IAS officer Sharma Nishad also met prominent party leaders.
Read more – Country News | Yogi Adityanath sent a total of Rs 230 crore to the accounts of 23 lakh construction workers in the state.
He then tweeted, "Good luck meeting Sanjay Kumar Nishad, dear leader of Nishad Samaj, party supremo and political 'godfather' of Jale Samaj and Praveen Nishad, popular MP from Sant Kabir Nagar. We will work together for the betterment of the people of this society." With next year's Assembly elections looming, the issue of meeting at this stage is being considered very important in Delhi.
(This is a monitored and automatically generated story from a syndicated news feed, probably not edited or edited by the latest staff)