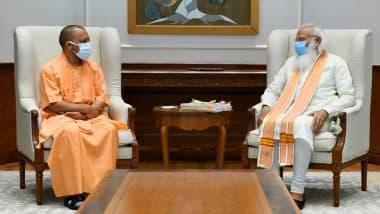 Chief Minister Yogi Adityanath meets Prime Minister Narendra Modi (Photo Credit: ANI)
New Delhi: On Friday, Uttar Pradesh Chief Minister Yogi Adityanath met Prime Minister Narendra Modi at his official residence. After holding a meeting for more than an hour, the Chief Minister, who had left the PM's residence, went straight to his residence to meet BJP President JP Naddar without talking to Yogi journalists. It is believed that Chief Minister Yogi briefed Prime Minister Modi on the political situation in the state and the steps taken to control the second wave of the Kovid epidemic. After joining BJP, Jitin Prasad met CM Yogi Adityanath, find out what he said
After meeting the Prime Minister, Adityanath left for a meeting with BJP chief JP Nadda to discuss the political situation in the states and possible cabinet expansion or reshuffle before next year's assembly elections. On Thursday, Adityanath met Union Home Minister Amit Shah, who also discussed the BJP's performance in the recent panchayat elections, excluding the political situation and preparations for the saffron party, and decided to elect its members as 'district panchayat presidents'. On choice.
Uttar Pradesh CM Yogi Adityanath meets Prime Minister Narendra Modi at his official residence in New Delhi pic.twitter.com/pPci0binPy

– ANI (@ANI) June 11, 2021
Uttar Pradesh CM Yogi Adityanath arrives at BJP president JP Naddar's house in New Delhi pic.twitter.com/lMHJ6tAzdu

– ANI (@ANI) June 11, 2021
Former Union Minister and Apan party chief Anupriya Patel took part in the talks between Shah and Adityanath. Adityanath also had separate meetings with Shah Patel after his departure. Later in the evening, Nishad party chief Sanjay Nishad and his son also met Shah.
Yogi Adityanath, who is in Delhi on a two-day visit, arrived in Delhi on Thursday afternoon to discuss preparations for next year's Uttar Pradesh Assembly elections with the party's central leadership. Sources further said that the meeting is also likely to discuss the Uttar Pradesh government's handling of the KOID situation during the second wave of the epidemic. While the state's efforts have been criticized by the opposition, the BJP leadership has praised the work done by the UP government.