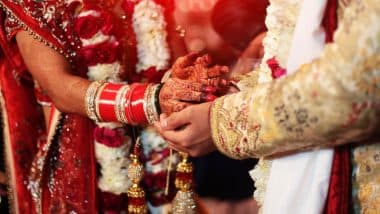 Wedding Ceremony (Photo Credit: Pixabay)
UP Marriage Guide: Only 25 people can now attend weddings in the state. The state government issued the order on Tuesday in the wake of the Kovid-19 epidemic. In a directive to all divisional commissioners of the state, district magistrates, regional, zonal and district police chiefs, Additional Chief Secretary of the State Home Department Abneesh Kumar Awasthi said that considering the current state of Covid-19, there are now a maximum of 25 people at a time in closed or open spaces. Invited guests can take part. The Covid protocol must be strictly followed at this time.
He said in the letter that guests attending the wedding should wear masks, two yards away and other precautions in accordance with the Kovid protocol, including the use of sanitizers. The two-yard protocol must be strictly followed to arrange seating for invited guests at the venue, Avasti said in the letter. Proper sanitation and sanitation arrangements should be made in the toilets at the venue. He made it clear that the organizers would have full responsibility to comply with these conditions. ALSO READ: Coroner's voice in Uttar Pradesh, 18021 new patients found in 24 hours, 85 lost their lives
Earlier on April 20, the state government had allowed a maximum of 50 people in all open wedding ceremonies and a maximum of 100 people in open spaces as per the Covid-19 protocol.
(This is a monitored and automatically generated story from a syndicated news feed, most likely not modified or edited by the latest staff)