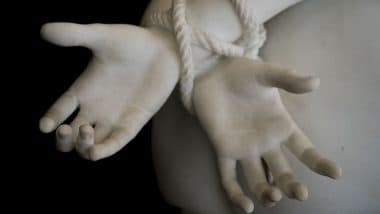 Symbolic image (Photo credit: Pixab)
Sand: Four years after the incident, police arrested a man accused of abducting and raping a 17-year-old girl in a village in Nagra area of ​​Balia district and sent him to jail. A case was filed against Santosh Kumar, a resident of Sikandarpur area, for abducting and raping a minor girl on May 10, 2011 in a village under the police station area, police sources said on Monday. Bhojpuri singer Golu Raja shot dead at BJP leader's son's birthday party in Balia, watch video
He said the police super had announced a reward of Rs 15,000 for the fugitive Santosh since the incident. Sources said Santosh was arrested on Monday near Nari Khal culvert in Nagra police station area and an illegally made pistol was recovered from his possession.
Meanwhile, police on Sunday arrested the accused and sent him to jail on charges of abducting and raping a 16-year-old girl in Rasda Kotwali area of ​​the district.
On June 1, a 16-year-old boy was abducted and raped by a man named Munna Rawat in Kotwali area, Rasda Kotwali in-charge inspector Nagesh Upadhyay said. The case has been filed against the girl's mother. He said police rescued the teenager from the Balia bus stand on Sunday and arrested accused Munna Rawat, 23, and sent him to jail.
(This is a monitored and automatically generated story from a syndicated news feed, probably not edited or edited by the latest staff)