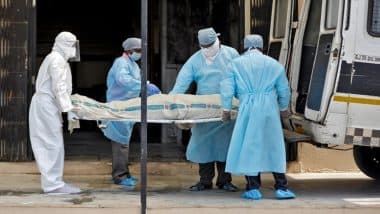 Photo credit ANI
Ghaziabad: Ghaziabad in Uttar Pradesh (Ghaziabad), A 59-year-old patient infected with coronavirus and infected with black fungus, yellow fungus, has died. The doctor who treated the patient informed about this on Saturday. Mucous cells: Why is the black fungus spreading only in India? Find out the opinions of experts
"Kunwar Singh is undergoing treatment," Dr BP Tayagi, an ophthalmologist at Harsh Hospital in the city's Rajnagar area, told PTI. But he died at half past one on Friday evening due to toxemia (blood poisoning).
Tyagi said Singh was a lawyer in Sanjay Nagar and he had contacted him after he was recently attacked by Corona. Tyagi said that in addition to black and white, yellow fungus was found in them during the endoscopy examination on May 24. He said another 59-year-old patient from Muradnagar was also being treated at his hospital, where he had been diagnosed with yellow fungus infection.
I will tell you that Tyagi further said that Rajesh Kumar, who lives in Muradnagar, was infected with a fungal infection near his brain. Half of his jaw has been removed. He also had the same disease (toxemia), but the level of infection was low. The patient is currently undergoing anti-fungal treatment. According to official figures, there are 1,997 corona under-treatment patients in Ghaziabad and 432 people have died due to the infection so far.