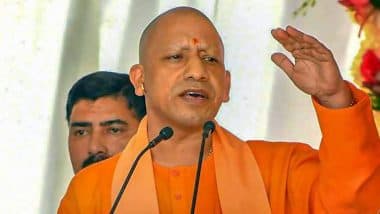 CM Yogi Adityanath (Photo Credit: PTI)
Lucknow, May 6: The Yogi Adityanath government of Uttar Pradesh has directed to expedite the setting up of a help desk to protect cows in each district amid adverse conditions caused by the Kovid-1 ep epidemic.
In a statement issued by the Chief Minister's Public Relations Cell, Yogi also directed to equip all the gaushals with treatment devices like oximeters and heat scanners for cows and other animals.
A total of 70,000 help desks are being set up in all the districts of the state to protect the cows in the wake of the current drought of Kovid-19 epidemic, the statement said. Besides, 51 oximeters and 341 heat scanners are also being provided.