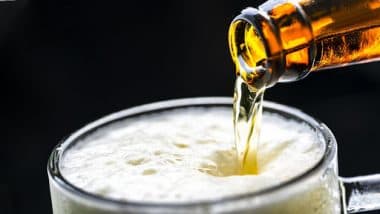 Alcohol (Photo credit: Pixabay)
Aligarh, 28 May: At least eight people were killed and five seriously ill after drinking fake alcohol bought from a contractor's shop in Aligarh. The police gave this information.
Aligarh Zone Deputy Inspector General (DIG) Deepak Kumar told reporters on Friday that Lodha police had learned this morning that two people, identified as truck drivers, had died in an accident at Karsia village on the Aligarh-Tapal highway. .
They said the two drivers came to work at a gas depot located on the Aligarh-Tuplat state highway. After district police and senior officials arrived at the scene, it was reported that six people from Karsia and several other nearby villages had also committed suicide under the influence of alcohol. Police teams have been dispatched to the area and the bodies have been sent for postmortem, he said.
Read also – UP: Aligarh grandson executes his own grandmother for suffocating, suffocating
Excise Deputy Commissioner D Sharma said five villagers were rushed to Deendayal Upadhyay District Hospital in critical condition, from where they were shifted to Jawaharlal Nehru Medical College Hospital, Aligarh Muslim University. He said the liquor store concerned has been sealed and samples have been collected for testing.
According to local residents, some villagers received news of the illness on Thursday evening. Villagers fear that the death toll could rise further as many people in nearby villages drink alcohol and information about them is not yet clear.