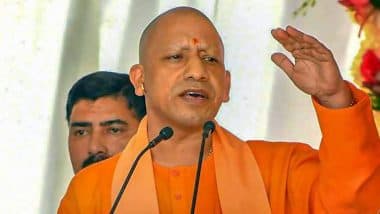 CM Yogi Adityanath (Photo Credit: PTI)
Lucknow, May 26: On Friday, Uttar Pradesh Chief Minister Yogi Adityanath will hold a virtual discussion with the newly elected village heads. The first meeting of the gram panchayat will be held on Thursday to mark the commencement of the activities of the rural local bodies. An official spokesman said the sworn-in prime minister would join the chief minister, who would understand the importance of rural local bodies in developing driving at the grassroots level. Additional Chief Secretary Panchayati Raj and Rural Development Manoj Kumar Singh in a letter to all the district collectors said that the chief minister would hold talks with some elected village heads.
District Magistrates have been asked to provide access to NIC centers in their respective districts for the convenience of village heads. The Panchayati Raj Department has also told its officials that when the village head goes to talk to CM Yogi, the officials should also come with him.
Read more- Uttar Pradesh: CM Yogi Adityanath visits encephalitis ward of Gurakshpur Medical College to know the condition of children
Meanwhile, sources said, the chief minister will also ask the village chiefs to promote vaccination in their villages and encourage the people to be aware to stop the spread of covid among the locals.