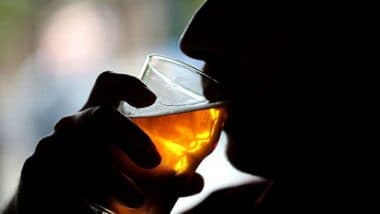 Symbolic Image (Photo Credit – IANS)
Aligarh, June 3: In Aligarh district, six brick kiln workers died after drinking alcohol thrown into a canal and 24 others fell seriously ill. Senior Superintendent of Police Kalanidhi Naithani told reporters on Thursday that a large number of brick kiln workers fell ill after drinking suspiciously adulterated liquor in a canal near Rohera village under Jawan police station on Wednesday night. Dr Haris Manzoor, chief medical superintendent of Jawaharlal Nehru Medical College Hospital, said six workers had died so far due to drinking spilled alcohol. In addition, 24 more workers are being treated. The condition of all of them is critical.
Harris said five workers were brought to the hospital in the middle of the night on June 2-3, three of whom had already died. A total of 30 people have been brought to the hospital since Thursday night. According to Senior Police Superintendent Naithani, it appears that some dealers of adulterated alcohol dumped their entire stock in the canal for fear of the police action. These workers used the same alcohol after being taken out of their canals, which led to the deterioration of their health.
Read more – Country News | Three more arrested for selling counterfeit liquor in Aligarh
According to locals, some brick kiln workers went to the canal to take a bath in the evening when they saw some packets of native liquor floating. The workers took them outside and made them drink. Shortly thereafter, their health began to decline. Upon receiving the news, the police reached the spot and took all the sick workers to the hospital. In this case, the case is being investigated by filing a case against unknown persons. Police have stepped up their efforts to arrest those responsible for dumping funky liquor in the canal.
It is to be noted that the issue of death due to poisonous liquor in Aligarh is currently under discussion. Last Friday, a large number of people died after drinking stupid liquor in many villages of Tapal and Akrabad police stations. Suspiciously, 85 people who have died as a result of drinking this alcohol have been autopsied so far. As of Wednesday, 35 deaths had been confirmed due to the administration's heavy drinking. Regarding the rest of the deaths, he said that only after the viscera report was confirmed would it be considered that they had died due to drinking spicy wine.
(This is a monitored and automatically generated story from a syndicated news feed, probably not edited or edited by the latest staff)