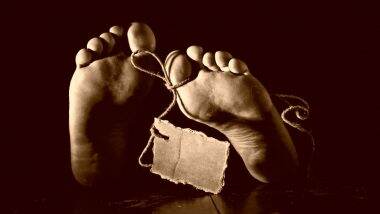 Photo credit: Facebook
Aligarh, May 29: The death toll in Aligarh district has risen to 22. A spokesman for the district administration said this on Saturday. According to the spokesman, a list of 22 people who underwent postmortem has been made available. The condition of at least 26 patients admitted to Jawaharlal Nehru Medical College Hospital and Malkhan Singh District Hospital on Friday night remained critical. At the same time, according to unconfirmed data, the death toll is "high enough" because data is still available from many villages.
Senior Superintendent of Police (SSP) Kalanidhi Naithani told reporters on Saturday that five people, including Anil Chowdhury, the mastermind of the fake liquor racket, were arrested late Friday night. Police have filed cases against 12 people in three separate cases. Overnight raids were carried out at various places in the district and are still going on. A reward of Rs 50,000 has been announced for the arrest of two persons, including Rishi Sharma and Bipin Yadav, who are believed to be close to liquor baron Anil Chowdhury.
Also read- Country News. The Uttar Pradesh government has set a target of vaccinating one crore people in June
Police are also investigating the "network" of Anil Chowdhury and Ishii Sharma, who are said to have strong political connections. Police have sealed five liquor contracts to ensure no one else is unaware of the counterfeit liquor store and a team of senior officers from the district is investigating the liquor stores. The magistrate has already ordered an inquiry into the incident and five excise officers have been suspended. The investigation will be conducted by additional district magistrate level officials.
# Update | A total of 12 people have died in Aligarh on charges of consuming liquor sold by licensed vendors. 1 person has been admitted to the hospital. The main accused Anil Chowdhury has been arrested: Rajiv Krishna, ADG, Aligarh pic.twitter.com/wtDPl6XLuy

– ANI UP (@NINUsup) May 28, 2021
District Magistrate Chandra Bhushan Singh told reporters that the administration could impose the National Security Act (NSA) against the culprits. The district magistrate has declared a former gratia amount of Rs five lakh each for the families of those who died. Additional Chief Secretary (Excise) Sanjay Bhusardi said on Friday that Aligarh District Excise Officer Dhiraj Sharma, Excise Inspector Rajesh Kumar Yadav and concerned area Chandra Prakash Yadav, Chief Excise Constable Ashok Kumar, Excise Constable Ramraj Rana have been given immediate effect. Have been given and departmental action has been taken against them.
Additional District Magistrate (Finance) Bidhan Jaiswal said the district administration's investigation had found that most of the drunken people belonged to the three police stations of Lodha, Khair and Janwar. Earlier, Aligarh Zone Deputy Inspector General (DIG) Deepak Kumar told reporters on Friday that Lodha police had learned on Friday morning that they had bought a contract at Karsia village, about 20 km from here on the Aligarh-Tapal highway. Truck drivers die after drinking alcohol.
Also read- Country News. Another 159 died from Covid-9 in Uttar Pradesh, with 2402 new patients found
He said that until the arrival of senior police and district officials, information had been received that six people from Karsia and several other nearby villages had also died of alcoholism. Even after this, people from many villages were reported to have died after drinking alcohol.
(This is a monitored and auto-generated story from a syndicated news feed, most likely not modified or edited by the latest staff)