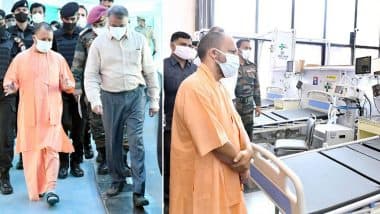 As soon as CM Yogi was freed from the infection, he started fighting against Corona (Photo credit: Twitter @Myojiditinath)
Lucknow: Chief Minister Yogi Adityanath (Yogi Adityanath) has directed the officials to work out a special action plan to protect the children of the state from the scourge of Kovid-19. Which is showing positive results. In Uttar Pradesh, arrangements are being made to treat children in the form of ICUs on a war footing. Pediatric ward Piku (equipped with specialized healthcare in all districts of the state)Piku) Being prepared. Where children will get all kinds of treatment in one place. CM Yogi at work: CM Yogi directs Uttar Pradesh to set up 10 new oxygen plants
Work has been started to make pediatric beds 'Raksha Kanch' with modern resources in all metropolitan hospitals including Lucknow to protect children from diseases. Let us know that Chief Minister Yogi Adityanath himself is busy talking to experts and doctors. While fighting the second wave of corona, he instructed to make 50 to 100 bed pediatric beds (PICUs) in all cities immediately, keeping an eye on the future of the coroner. These beds will be especially for babies over one month old. They will be smaller in size and have railings all around. It will provide treatment and oxygen to severely infected children.
Pediatric wards are being set up at Pratapgarh, Prayagraj, Jalagan and Kaishambi
State Child Rights Protection Commission Chairman. Special Gupta said that Pratapgarh, Prayagraj, Jalun Kaushambi, Piku will be ready in a week. Of which 25 beds are being made in Prayagraj, 30 in Pratapgarh, 10 in Jalaun and 20 in Kaushambi. He also said that work is in full swing in Jhansi, Amethi, Mathura, Muradabad, Ayodhya, Gorakhpur, Meerut, Chitrakoot, Lucknow and Azamgarh.
Doctors said that pediatric beds would prove to be a boon for children
Dr Salman Khan, a pediatrician at Dufferin Hospital in Lucknow, said the Uttar Pradesh government's decision to immediately provide 50 to 100 pediatric beds in all major cities was effective in treating children. She said there are PICU (Pediatric Intensive Care Unit) beds for babies over one month, NICU (Neonatal Intensive Care Unit) for the treatment of children under one month and SNCU (A SIK) beds for babies born in the Newburn Care Unit of Women's Hospital. Which has all the benefits of treating children immediately.