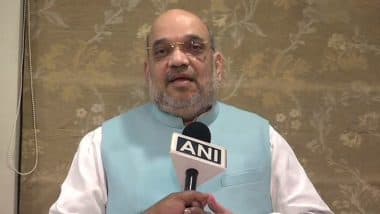 Union Home Minister Amit Shah (Photo Credit: ANI)
New Delhi: Union Home Minister Amit Shah (Tirath Singh Rawat) has asked Uttarakhand Chief Minister Tirath Singh Rawat and assured every assistance from the Center after reports of two corporation buildings collapsing and several houses being damaged in a cloudburst incident at Devprayag in Tehri district on Tuesday. Officers provided this information. During a telephone conversation on Tuesday evening, Shah assured Rawat of all possible assistance from the central government.
The eruption of clouds over the Shanta River has flooded the riverbanks and damaged pedestrian bridges, water pipelines and power supply lines, an official said. Meanwhile, Mahipal Singh Rawat, officer-in-charge of Devprayag police station, said the river had become huge due to a cloudburst at a place called Dasaratha Danda Parbat at the upper end of the Shanta river around 5.45 pm. ALSO READ: Uttarakhand: 3 killed in Madkot village due to cloudburst, 6 missing from neighboring village, many houses submerged
The debris in the river caused extensive rubble at Shanti Bazaar in Devprayag town, where two buildings, including a multi-purpose municipal building, were demolished. He said no casualties were reported in the incident as conscious people had already moved to safer places.