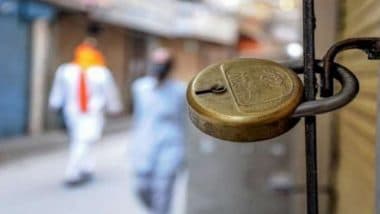 Lockdown I Symbolic Image (Photo Credit: PTI)
Dehradun: In Uttarakhand, the government has extended the ongoing Covid curfew in the state till June 15. The curfew period was ending at 6 am on Tuesday, June 6. This information has been given in the government order. The Chief Minister of Uttarakhand has met the Union Ministers and discussed a number of development projects
On Sunday, Chief Secretary Om Prakash said in an order issued in this regard that the state's curved curfew would now remain in effect till the morning of June 15. However, during this period, in the guidelines, the district magistrates concerned in rural areas of the state have been allowed to take decisions at their own level after determining the status of Kovid-19 infection.
The order said that during this period, people will be allowed to be vaccinated to show evidence, where as before, a maximum of 20 people will be negatively allowed to take part in the RTPCR Covid test report with the district administration's permission 2 hours before any marriage. In addition, at least 20 people will be able to take part in the janaza.
Until further notice, all social, political, cultural events, entertainment and sports activities in the state will be closed and educational, coaching institutes, cinema halls, shopping malls, sports stadiums, gyms, etc. will also be closed during this period.
The Uttarakhand government has extended the COVID restriction till June 15; General stores will be open on June 9th and June 14th from 8 a.m. to 1 p.m. pic.twitter.com/Z4xti9bmBA

– ANI (@ANI) June 6, 2021
For those arriving from outside the state, it will be mandatory to register on the smart city portal and bring the negative RTPCR test report 722 hours in advance, while those arriving in Uttarakhand from outside will have to stay in separate accommodation centers for seven days.
According to the order, during this period, drug stores and test labs etc. will be open 24 hours and bank branches will be open from 10 a.m. to 2 p.m.
During the Covid Curfew, government cheap shops will be open daily from 8 am to 12 noon and ration, grocery, stationery and bookstores will be open from June 1 to June 14 and June 14 from 8 am to 1 pm.
In addition, shops selling essential items like milk, meat, fish, fruits and vegetables will be open from 8 am to 12 noon.
Liquor stores will be open on June 9, June 11 and 14 from 8 a.m. to 1 p.m.
This will continue during the construction work but the contractor will have to take his workers to the construction site or arrange for them to stay at the construction site.
During this period, persons under the age of ten years and persons over the age of 65 years, pregnant women and persons suffering from any other disease shall not be allowed to resign except for health reasons.
(This is a monitored and automatically generated story from a syndicated news feed, probably not edited or edited by the latest staff)