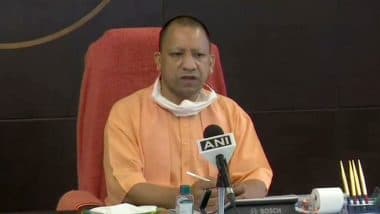 CM Yogi Adityanath (Photo credit: ANI)
Lucknow: In Uttar Pradesh, due to the successful strategy of CM Yogi Adityanath, new incidents of corona have come down drastically. Meanwhile, the Yogi government is also planning to speed up vaccination. From June 1, all district headquarters will be vaccinated against Covid aged 18 to 44 years. Chief Minister Yogi Adityanath has directed to vaccinate people aged 18-44 in all district headquarters from June 1. Uttar Pradesh: CM Yogi's effective strategy, due to the speed of corona infection, has been done in phases.
Currently, vaccination of 18- to 44-year-olds is underway in 23 districts of the state. The state government has started the first phase of vaccination for 18- to 44-year-olds in Lucknow, Kanpur, Varanasi, Gorakhpur, Prayagraj, Meerut and Berili districts from May 1.
Then, in the second phase, from May 10, vaccination was started in Gautam Budh Nagar district (18 districts in total) including 17 district headquarters including all the municipal corporations in the state and in the third phase it was extended to 23 districts.
The Chief Minister has now directed to vaccinate people aged 18-44 in all the districts of the state. According to an official statement, vaccination campaigns for people over the age of 45 in all the districts of the state are in full swing and 11 million doses of covid vaccine have been given till Saturday.
The state has increased the lockdown
Corona curfew has been extended again in UP. A spokesman for the UP government said the partial coronary curfew result was seen to be positive in coronary infection control, so it was decided to extend it. This time, restrictions have been imposed until 7 a.m. on May 31. The number of cases in the state is steadily declining. During this period, the necessary services will continue, including vaccination, industrial activities, medical work.