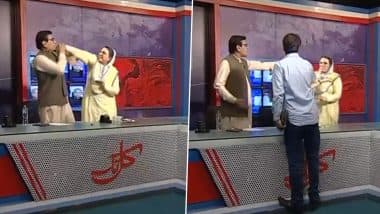 A female leader close to Imran Khan slaps opposition MP (Photo Credit: Twitter)
Viral video: Pakistan's Prime Minister Imran Khan has been the subject of much controversy, and now one of his closest female leaders has come under fire for allegedly slapping an opposition lawmaker. In fact, Dr. Firdaus Ashiq Awan, who is considered close to Imran Khan, slapped PPP MP Qadir Mandokhel of Bilawal Bhutto's party during a live TV show. It is said that during the show, the female leader got so angry that she first grabbed Qadir Mandokhel's collar and then slapped him. A video of the incident is going viral on social media.
Let me tell you that Dr. Firdaus Ashiq Awan was the Special Assistant to the Prime Minister of Pakistan Imran Khan and is currently the Special Assistant to the Chief Minister of the Punjab Province of Pakistan. In the video of the incident, which went viral on social media, Ferdous Ashiq Awan used abusive language against opposition leader Qadir Mandokhel, then slapped him in anger. There was an incident where a program was being recorded on journalist Javed Chowdhury's Express TV. Read more: French President Emmanuel Macron slaps two people in public (see video)
Watch video –
Dr Firdaus Ashiq Awan slapped PPP MNA Qadir Mandokhel while recording a TV show. pic.twitter.com/vRIJ7RcJIf

– Mortaza Ali Shah (mortazaviews) June 9, 2021
However, after the video of the incident went viral, Ferdous Ashiq Awan issued a statement accusing PPP MP Qadir Mandokhel of abusing and threatening his father. According to Firdaus, he slapped the PPP MP in self-defense and Mandokhel forced him to do so. The woman leader also said that she would file a complaint against the opposition leader for mental harassment.