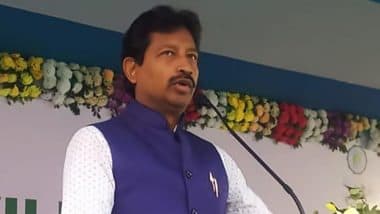 Rajiv Banerjee (Photo Credit: Facebook)
Kolkata: Ahead of this year's West Bengal assembly elections, Rajiv Banerjee, a leader who left the ruling Trinamool Congress (TMC) and joined the BJP, warned his new party in a new media post on Tuesday that "people will want a presidential rule against a government that was elected with a huge mandate." No. After leaving the Trinamool Congress in January, Banerjee said he was compelled to say that a section of Trinamool leaders had "insulted him to prevent him from complaining about the way he was working".
The former state minister, who stayed away from the state BJP leadership meeting on post-poll violence, said the state should stand above the people and stand with the people in this moment of crisis caused by the Kovid-19 epidemic and storm. Banerjee tweeted, "People will not like the threat of Delhi and the use of Article 356 (President's rule) to oppose the elected government with huge public support. We must rise above politics and stand by the people of Bengal who were devastated by Kovid and Yas." Read more: Delhi: BJP MLA Suvendu Adhikari meets Home Minister Amit Shah, discusses violence in West Bengal
Banerjee lost the assembly election from Domzur constituency. Over the past few weeks, a number of Trinamool Congress leaders, including former MLAs Sonali Guha and Dipendu Biswas, have expressed their desire to return to Mamata Banerjee's camp. A few more are also hinting at grassroots leadership and they are hopeful of returning to the grassroots.
Recently, Trinamool MP Abhishek Banerjee went to the hospital on June 2 to see the sick wife of BJP leader Mukul Roy, sparking speculation that the political equation might change. Rai was the general secretary of the Trinamool Congress. Recently, Abhishek Banerjee has been made the General Secretary. Rai joined the BJP in 2017. Rai did not attend the meeting convened by the state BJP leadership on Tuesday.
(This is a monitored and automatically generated story from a syndicated news feed, probably not edited or edited by the latest staff)