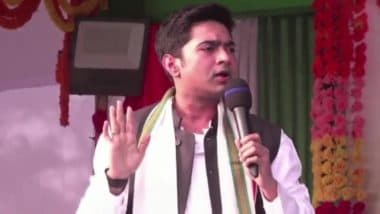 Abhishek Banerjee (Photo Credit ANI)
Kolkata: Trinamool Congress (TMC) has changed its leadership after winning the West Bengal Assembly elections for the third time. Hu MP Abhishek Banerjee has been given the responsibility as expected. Subrata Bakshi has been replaced by Chief Minister Mamata Banerjee's niece Abhishek as Trinamool National General Secretary. The decision was taken at a meeting of the party's core committee held on Saturday. Actress-politician Saini Ghosh has been appointed as the president of Trinamool Youth Congress in place of Abhishek after losing the assembly elections.
Meanwhile, following the new one-man-and-post policy implemented in the party since Saturday, Bakshi has retained his position as the party's state president. Kakli Ghosh Dastidar, a veteran leader and close confidante of Chief Minister Banerjee, has been given charge of the Trinamool women's wing in place of Chandrima Bhattacharya, and Dola Sen has been made the national head of the Trinamool Congress trade union. Interestingly, R Tabrat Bhattacharya, who joined the Trinamool from the CPI-M, has been made the state secretary of the Trinamool Congress trade union. Read more: West Bengal Assembly elections 2021: Abhishek Banerjee's challenge to BJP, says – If I am guilty of extortion, hang me straight
Speaking at a press conference after the meeting, Trinamool general secretary Perth Chatterjee said, "We thank all those who voted for us to come to power and we are committed to working for the betterment of the people and the state." Chief Minister Mamata Banerjee also thanked those who stood by the party in difficult times.
Asked about the leaders willing to return to the party, Chatterjee said, "There was no discussion about defecation. Appropriate decision will be taken. A number of former Trinamool leaders who joined the BJP before the Assembly elections have expressed their desire to return to the ruling party, including Sonali Guha, Sarala Murmu and Amal Acharya, former allies of Mamata Banerjee.
On May 23, Sonali Guha wrote a letter to Mamata apologizing for leaving the party. He said in the letter, "I beg your pardon and if you do not forgive me I will not be able to live. Please let me come back, and spend the rest of my life in your affection."