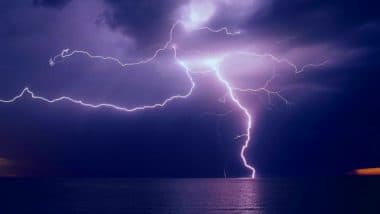 Lightning (Photo credit: Pixabay)
Kolkata: At least 26 people were killed in lightning strikes in three districts of South Bengal on Monday. The state disaster management officer said this information. The official said nine people were killed in Murshidabad and 11 in Hughli, two in East and West Midnapore districts and two in Bankura. Several others were injured in the lightning strike in Murshidabad district and were admitted to Jangipur Hospital for treatment. The districts of South Bengal, including Kolkata, have received heavy rains since the afternoon, which the Met Office described as pre-monsoon rains. As many as 18 wild elephants have been killed in lightning strikes in Assam, an autopsy has confirmed
Prime Minister Narendra Modi and Home Minister Amit Shah on Monday mourned the victims of the lightning strike in West Bengal. The Prime Minister has sanctioned Rs 200,000 for the next of kin of the deceased and Rs 50,000 for the injured, ex-Gratia.
Prime Minister Modi tweeted, "My condolences to the families and relatives of those who died in the lightning strike in West Bengal. I wish a speedy recovery to the injured." Home Minister Shah tweeted, I pray for the speedy recovery of the injured.
Eleven people were killed in Hughli, two in Murshidabad in Bankura, two in East Midnapore and two in West Midnapore today. pic.twitter.com/geCrA8TSnc

– ANI (@ANI) June 7, 2021
The lightning killed nine people each in Murshidabad and Hooghly districts and two in East Midnapore, officials said.
My thoughts are with all those who have lost loved ones in the lightning strikes in different parts of West Bengal. Serious injuries can heal quickly.

– Narendra Modi (NarendraModi) June 7, 2021
The Prime Minister's Office tweeted, "Prime Minister Narendra Modi has sanctioned Rs 200,000 ex-gratia from PMNRF for the families of those killed in lightning strikes in different parts of West Bengal. Rs 50,000 will be given to the injured."