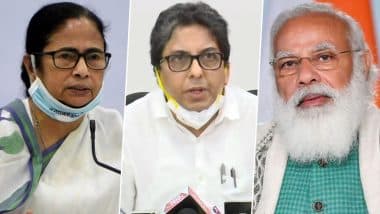 Mamata Banerjee, Alapan Banerjee and Prime Minister Modi (Photo Credit PTI and ANI)
Kolkata: There is a growing rift between Chief Minister Mamata Banerjee and the Center over the transfer of West Bengal Chief Secretary Alapan Banerjee. Because the central government had asked Bandopadhyay to report to him before 10 am on May 31. But Mamata Banerjee sent a letter instead of her letter requesting that the Chief Secretary has a big responsibility over the state. Thus, their center should not be called. Meanwhile, the media quoted the news as saying that the central government may take action against them for not informing the chief secretary about Delhi. In such a situation, we know what action the central government can take against Alapan Banerjee.
According to legal experts, Alpan Bandopadhyay, the chief secretary of the central government of West Bengal, has been given a three-month extension by the state government. Which he can cancel. Read more: Rukas refuses to send Mamata Banerjee to Delhi over transfer of Chief Secretary Alapana Banerjee, Kejriwal says there is no time for war
In addition, we tell you that in the case of Chief Secretary Alapan Bandopadhyay, the central government has an option to do so.
The Modi government at the Center may cancel Alapan Bandopadhyay's three-month service extension.
The Center may call him back to Delhi.
The central government may ask Chief Secretary Bandopadhyay to issue a notice of reason and why it will not be followed. Sources said that the Center has decided to take action against Chief Secretary Alapan Bandopadhyay.

Before transferring Alapan Banerjee, Mamata Banerjee in a five-page letter to the Prime Minister requested the Chief Secretary to reconsider her decision to extend her term after three months. "I am shocked and shocked by the unilateral order to summon the West Bengal chief secretary to Delhi," he said in the letter.