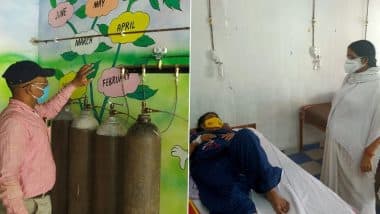 When the sister died in Corona, the brother turned the school into a cowardly care center
The death toll in Corona continues to rise in Bihar. Infected people have been reported to die from lack of oxygen and medication. Under such circumstances, Corona, a brother from Begusarai in Bihar, was so devastated by the death of his sister that he started a 30-bed Oxygen Covid Care Center at his school. The district administration has also appointed doctors and nurses transferred there. April 24 Sumon Tagore, sister of Pankaj Kumar Singh, a resident of Begunarai, died on April 24 from Corona. Pankaj said his sister Corona tested positive on April 24 and was admitted to the hospital. At this time, Pankaj also had to stay in the hospital under the care of his sister. Read more – Corona infection in Bihar, 5920 new cases in the last 24 hours, 99 people have died.
Pankaj told IANS, "At this time, the patients who came to the hospital saw problems with beds, oxygen, lack of medicines. People sit on their cheeks prematurely due to lack of oxygen." Meanwhile, his sister Sumon Tagore also breathed her last on April 27. Jai and he decided to open the hospital at his school building in Kalisthan, Begusarai.
"I can't give my sister back now, but if I save a lot of sisters, I can save them," Pankaj said. I'm doing the same. After this decision, he met the district magistrate and expressed his desire. The district magistrate also welcomed Pankaj's decision. Pankaj arranged for the hospital without any delay and the hospital was opened. Pankaj said the center has 30 oxygen beds. The hospital has been operational since May, and was inaugurated by Deputy Chief Minister Renu Devi in ​​May. MP Rakesh Sinha was present on the occasion.
Here, at the request of the school director, the district administration has appointed doctors and nurses at the school's Covid-19 hospital. District Magistrate Arvind Kumar Verma also lauded the initiative. At present 1 doctor and 2 nurses have been appointed in 1 shift through district administration. Where patients are being treated at the hospital. The school management at this hospital is spending on oxygen and patients. Pankaj said that free services are being provided to the patients who come here. Patients are not being charged a penny.