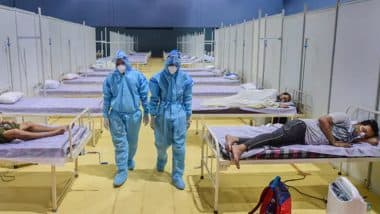 Covid Word (Photo credit: PTI)
Amidst the coronavirus epidemic, most of the cases of black fungus (mucormycosis) are now coming to the country, which has further increased the concern of the government. On the other hand, the situation has become more serious in the case of white fungus, which is more deadly than black fungus. Four white fungus patients have been confirmed in Patna, the capital of Bihar. One of the affected patients also has a famous doctor from Patna. Black fungus: Covid-19 patients in Madhya Pradesh should undergo nasal endoscopy
White fungus is thought to be more deadly than black fungus (mucorrhoea). According to health experts, white fungus infection is more dangerous than black fungus infection because it affects the lungs as well as other parts of the body such as nails, skin, stomach, kidneys, brain, personal organs and the presence of the mouth.
Doctors said that white fungi also infect the lungs. It also has an infection like Covid-19 and is found in infected HRCT patients.
There are about 50 black fungus patients in Bihar. More than 90 people have died in Maharashtra due to the worst outbreak of the corona virus due to the black fungus. Many cases of the deadly fungus have been reported in Delhi, Uttar Pradesh, Tamil Nadu, Uttarakhand, Rajasthan, Gujarat, Madhya Pradesh and other states.
What is mucoromycosis
Mucoramycosis is also known as black fungus. Covid-19's new mutant virus is showing some more symptoms. This 'mucoromycosis' disease is the only one discussed. According to health experts, it is a type of 'fungus' or 'fungus', commonly found in people who have a weakened immune system due to coronary heart disease or who are taking medications due to a health problem Power is low.
NITI Commission Member (Health) Dr. V.K. According to Paul, this infection is caused by a fungus called 'mucor' and that is why we call it 'mucoromycosis'. Dr. Paul explains, "It is found in a large number of diabetic patients. If there is no diabetes, there is very little chance of coping. It is a curable disease."
What are the symptoms of mucoromycosis
Recently, ICMR has provided advice on testing and treatment of mucus mycosis. It talks about its symptoms, prevention and cure. If someone has eye and nose pain or the area around it is red, has fever, headache, cough and shortness of breath, then the infected person is suffering from vomiting of blood etc. Etc. If there is a problem it may be due to mucus mycosis. The counselor says that if you go to a dusty place, wear a mask before going to a dusty place. Wear clothes and shoes that cover the whole body.
What causes black fungus?
Black fungus is most commonly infected by diabetic patients, but patients with coronary heart disease are now more likely to be infected after recovering. Doctors say the use of steroids in the treatment of coronary patients may already weaken their immunity, which means immunity, resulting in black fungus.
How is the treatment
In such cases, the drug 'amphotericin B' is proving to be effective in the treatment of patients with micromosis. Due to which the government has increased the production of anti-fungal drug amphotericin-B.