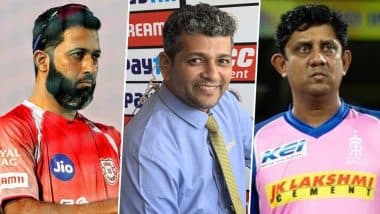 Wasim Zafar-Amal Majumder – Siraj Bahuli (Photo Credit Instagram & Twitter)
Mumbai: In addition to veteran domestic cricketers Wasim Zafar and Amal Majumder, former India spinner Sairaj Bahuli has applied for the post of Mumbai's next head coach after the departure of Ramesh Powar. Powar has been appointed as the head coach of the Indian women's cricket team. Former fast bowler Balwinder Singh Sandhu, a member of India's 1983 World Cup winning team, also applied. A senior MCA official said a total of nine candidates had applied. Former wicketkeeper-batsman Sulakshan Kulkarni, fast bowlers Pradeep Sundaram, Nandan Fadnis, Umesh Patwal and Vinod Raghavan are also believed to have applied.
The Mumbai Cricket Association (MCA) last week sought applications for the post of Mumbai senior team coach and also laid down eligibility rules for applicants, according to which the applicant played 50 first-class matches. Monday was the last date to apply. Zafar, the most successful Ranji Trophy batsman, is a tough contender in 31 Tests. Led by former Mumbai captain Majumdar, the team won the Ranji Trophy and in 2016 served as the team's batting advisor to the National Cricket Academy (NCA), IPL team Rajasthan Royals and South Africa. He is also a prominent commentator. Read more: BCCI appoints former Indian cricketer Ramesh Powar as head coach of women's cricket team
He was a veteran of domestic cricket and played two Tests and eight ODIs for India. He took 630 wickets in 188 first-class matches. He has coached Vidarbha, Kerala, Bengal and Gujarat in the last two seasons. Kulkarni was Mumbai's coach when the team won the Ranji Trophy in the 2012-13 season. He has also coached in Vidarbha and Chhattisgarh.
Last season, Mumbai appointed Amit Paganis as the coach of the Syed Mushtaq Ali Trophy but he left the post after the team's poor performance. The MCA then appointed former Indian off-spinner Ramesh Powar as the head coach of the Vijay Hazare Trophy where the team became champions.
(This is a monitored and automatically generated story from a syndicated news feed, most likely not modified or edited by the latest staff)