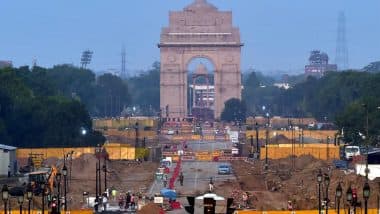 Photo Credit for Central Vista Project: PTI)
The Delhi High Court will decide on Monday whether to allow work on the Central Vista project to continue during the ongoing Corona epidemic. A bench of Chief Justice DN Patel and Justice Jyoti Singh heard the petition seeking stay of construction work during the COVD-19 pandemic. The bench has fixed May 31 for giving its verdict in the matter. The Delhi High Court on Saturday released the list of reasons. The court reserved judgment on May 1 in a joint petition filed by translator Anya Malhotra and historian and documentary filmmaker Sohail Hashmi. Read also – Central Vista Project: The new residence of the Vice President and the Prime Minister will be ready by 2022.
Both argued in their application that the Central Vista project was not a necessary work and that it could be closed for some time. Opposition parties have also criticized the Central Vista project, saying it was not appropriate to continue in the era of the Corona epidemic, where many people complained about hospital beds, vaccines, oxygen cylinders and drugs.
Under the Central Vista project, a new parliament building, a new residential complex is envisaged, which includes the residences of the Prime Minister and the Vice-President, as well as several new office buildings and offices of the Central Secretariat. Apart from the construction, a large 'Defense Enclave' (Defense Circle) will be prepared for the top officers and employees of the defense sector under the project.
41 percent of people supported
According to the ABP-C voter Modi 2.0 report card, while opposition parties are opposing the central government's ambitious Central Vista project, about 41 per cent people support the government's decision to launch and continue the project during the Kovid crisis. According to the ABP-C voter survey, 41.6 per cent people believe that the decision of the Narendra Modi government was the right decision to start and continue the Central Vista project in the Corona era. The survey found that 48.5 per cent of respondents in urban areas and 38.9 per cent of those living in rural areas justified the government's decision to move forward with the Central Vista project during the Corona period.
On the other hand, 33.9 percent of the respondents said that it was not right for the government to move the project in the midst of the Kovid crisis. The survey found that 29.5 per cent in urban areas and 35.7 per cent in rural areas felt it was not a good decision, with a total of 24.4 per cent people not considering it appropriate to comment on the issue. The survey was conducted between May 23 and May 27 with 12,070 people across the country.