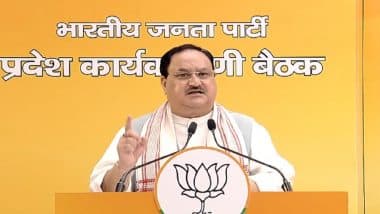 BJP president JP Nadda File photo | (Photo credit: Twitter)
7 years of Modi government: The government led by Prime Minister Narendra Modi (Prime Minister Narendra Modi), which is in power at this center, is going to complete seven years on May 20, 2021. The Bharatiya Janata Party (BJP) will not organize any program on this occasion. Due to the Corona era, the BJP has distanced itself from any kind of program. However, there are plans to make the occasion special for the BJP by announcing plans for all orphans during the Corona period in all BJP-ruled states. In this regard, National President JP Nadda has written a letter to the Chief Ministers of all the BJP-ruled states. Read more- Coronary Vaccination: This demand for 18 ++ vaccine has ended in Delhi, Chief Minister Md.
In a letter to the chief ministers of the BJP-ruled states, JP Nadda said, "This terrible epidemic, which came 100 years later, has taken many of our loved ones away from us and left deep scars on our nation and society." Unfortunately, there are many children whose parents were not in the epidemic. It is the duty of all of us to think for their future. The guidelines of a big project for such children and families will be made available to you soon.
Statement by JP Naddar-
On May 30, the 7th anniversary of the central government, all BJP-ruled states will implement a larger scheme for children who have been orphaned by orphans. # COVID-19. No event will be organized on the occasion due to the epidemic: BJP national president JP Nadda

(File pick) pic.twitter.com/HH6T4wKV2H

– ANI (@ANI) May 22, 2021
JP Nadda has asked the Chief Minister to prepare a draft plan for orphans so that on May 30, the seven-year term of the Modi government can be completed and implemented in all the states together. The BJP president told the chief minister that there would be no program in any state as the Modi government has completed seven years due to the Corona crisis.
INS input