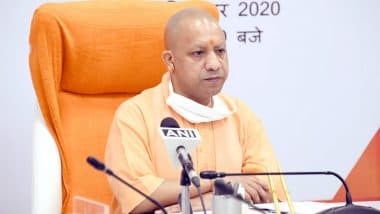 CM Yogi Adityanath (Photo Credit: PTI)
Varanasi 14 May: The Yogi Sarkar (Yogi Sarkar) has equipped Varanasi with oxygen in the second wave of the corona to protect every breath. Oxygen plants have been set up in many public and private hospitals. The number of cylinders and refilling has also been increased. The Yogi government has filled Varanasi with oxygen in a record time of less than a month. Which is why people are now getting full oxygen in hospitals and homes. People in Kashi have started sighing as more oxygen is supplied as per the demand. The government has now started making rapid progress towards health centers in rural areas to set up oxygen plants. The yogi government's testing, tracking and treatment strategy slowed Corona's move in Europe, a huge reduction in active cases.
When the demand for oxygen increased in the second wave of corona, UP Chief Minister Yogi Adityanath (Yogi Adityanath) took instructions to ensure that there was no shortage of life in any isolated district. And within a few days the supply of oxygen began to exceed the need. At the beginning of the second wave, none of the government hospitals in Varanasi had its own oxygen plant.
The government quickly started setting up plants in these hospitals. In less than a month, the results of the government's hasty decision began to surface. One after another, oxygen plants were set up in government hospitals. The number of cylinders and refining capacity have also increased.
The oxygen plant will be set up in less than a month
A 120-bed plant of 610 LMP has been started at Deendayal Upadhyay District Hospital. Lal Bahadur Shastri Government Hospital Ramnagar has 120 LMP plants in 25 beds ESIC Hospital Pandepur has started supplying two plants, 250 LMP and 610 LMP oxygen, one of which has been installed, and the other is about to be installed soon, life will flow in 120 beds. Who came from Israel.
1,010 LMP oxygen plants are to be built soon at Barracker Central Hospital. Which will fill 120 hospital beds with oxygen. BHU and Homi Bhabh Cancer Hospital were already self-sufficient in oxygen. Liquid oxygen plants are already installed in two places. Pandit Rajan Mishra Covid Hospital, established by DRDO, has also set up a liquid oxygen plant, which is supplying oxygen to 5050 beds.
The Yogi government has soon started the practice of setting up oxygen plants in all government hospitals. This has benefited the industrialists who set up the oxygen plant. Some industrialists have also installed oxygen plants from their CSR funds.
The Yogi government of the state has started the exercise of setting up oxygen plants in health centers in rural areas. There are plans to set up oxygen plants in all community centers and health centers. A large population will continue to get a lot of relief even after Kovid due to the delivery of oxygen to the beds of health centers in rural areas.
The government has increased the capacity to fill 4300 cylinders from 1900 cylinders in one day.
Banaras is primarily dependent on Chandauli district for oxygen. There were two LMO refilling plants and two ASU plants. Varanasi (excluding BHU) whose hospitals had the capacity to fill about 1900 cylinders (D type). The sensitive government did not suffocate the corona patients, so the cylinder refilling from the industrial oxygen plant started sending oxygen to the corona patients to the hospital.
Life-saving plants were run overnight. The result is that 4300 cylinders are being filled in one day. Which has more than doubled. And the patient's broken breath begins to stop. The Government of India and the Government of Uttar Pradesh, Yogi, transferred the LMO (Liquid Medical Oxygen) to Varanasi with the help of the Railway-operated Oxygen Express. The government degraded and shut down the oxygen plant immediately.
60,000 cylinders were procured from Gujarat, 550 cylinders were taken from various industries which were given to the hospital. The government was able to provide oxygen not only to hospitals, but also to homeless patients. In addition, more than 200 oxygen concentrators were purchased and delivered to the hospital. In two consignments, Varanasi 458 and Oxygen Concentrator arrived on Thursday. On Friday, 99 oxygen concentrators were added to the medical fleet. The government also set up a tracking system to deliver oxygen to the right place at the right time.
To provide relief to the people from the second wave, the Yogi government immediately provided new ventilators and new HFNCs for critically ill patients. The hospital was provided with nebulizers, remedicivir and tocilizumab which helped to care for critically ill patients. The government has transported more than 80,000 medicine kits to their homes. The government is increasing day by day with all these facilities. So that not a single coronary patient gets in trouble and everyone can get timely treatment.